Share this URL: https://20190716pointsofyoutaster.peatix.com/
Event is FINISHED
Points of You® Taster Session - The Potential Me and Icebreaker
Want to learn more about using Points of You® Tools?

(New to Points of You®? Check out the global website to get an idea or my facebook page for Points of You® in action)

In this special open workshop as part of my L3. Expert practice session, you will have a chance to experience 2 Points of You® Processes in English.
If you want to further explore your insights and focus on actions, VIPs can arrange a 60-minute one-on-one online coaching session to follow up after the workshop.

1. The Potential Me
The objectives of this process are:
1. To meet yourself and others from a new perspective.
2. To get an opportunity to see how we've changed during the years.
3. To experience the deep work we can do with Faces




2. Icebreaker
Points of You® tools can be used to design a full day workshop, or as a part of an opening or closing for a meeting/ get together etc. In this process we will show you some ways to use our tools as an icebreaker, a unique and fun way to introduce each of the participants in the group. The objectives of this process are:
1. To get inspiring ideas for Icebreakers with Points of You® tools.
2. To introduce ourselves in a creative way.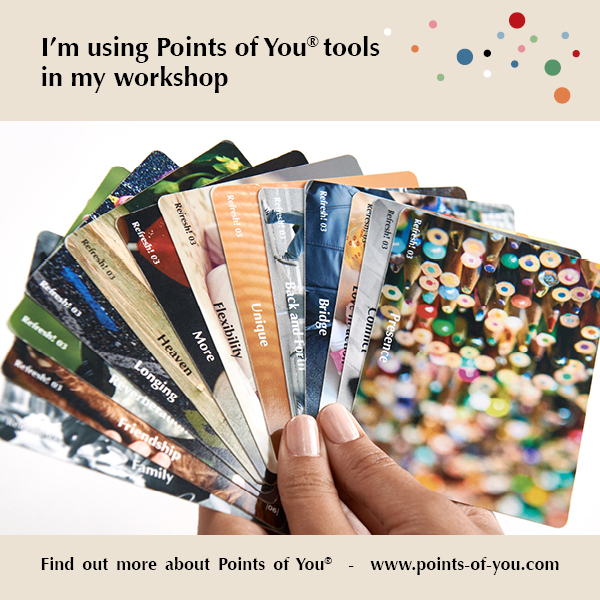 A little bit about me : Jennifer Shinkai, MA (Oxon), Points of You® Master Trainer

Back in 2015, I was miserable at work, had a slipped disc and was feeling incredibly stuck in my life.
I was definitely not leaping out of bed each day! I wish that I had known about the Ikigai concept as a way to structure my "navel gazing" as I tried to work out what I wanted to do with my life.

I'm now an English/Japanese facilitator and coach, supporting my clients to create engaged teams in global business. I'm passionate about the infinite possibilities for innovation that an inclusive workenvironment can create. As a Points of You® Master Trainer, I'm fortunate enough to have the tools to able to create that environment in my workshops.

Originally from England, I have been living in Tokyo, Japan since 1999, after graduating from St.Hugh's College, Oxford University (English Language and Literature). When I'm not talking about Ikigai, I'm running, training for Spartan Races, and enjoying life in the Shitamachi (downtown) part of Tokyo with my husband and two kids.
read more
Updates
The event description was updated. Diff#445023

2019-06-18 08:04:50
Tue

Jul 16, 2019
2:00 PM
-
5:00 PM
JST
Add to Calendar
Venue
Tickets

Workshop

SOLD OUT

¥4,000

VIP includes workshop and online 60 minute Coaching Session

SOLD OUT

¥15,000
Venue Address

4 Chome-22-10 Kotobashi, Sumida

Japan
Attendees
2